Siding, soffit, eavestrough & Aluminum repair
With our unpredictable Canadian weather siding and aluminum repairs happen. Here at Kanata siding we are certified exterior and roof inspectors. We are also experienced with a large variety of siding and aluminum products. Leave it to us to ensure your home is 100% leak free. We have done hundreds of siding repairs all across Ontario. 
why use a expert siding contractor for siding, Soffit, fascia, eavestrough Repairs?
The image posted was one of the worst siding errors I have ever seen.
The couple that owned this home had been battling a leak in the basement for a couple of years.
I know its hard to make out of the picture but if you zoom in closely you will see a small seam in the wall above this leak. This was a improper transition strip that was installed originally to the home. This place leaked for 18 years before the issue was resolved.
Sadly if the home is new or old it does not matter, home inspectors cant always catch everything, this is knowledge that only a true master of his trade could catch. 
Sometimes its the smallest of areas that have the biggest impact on your home.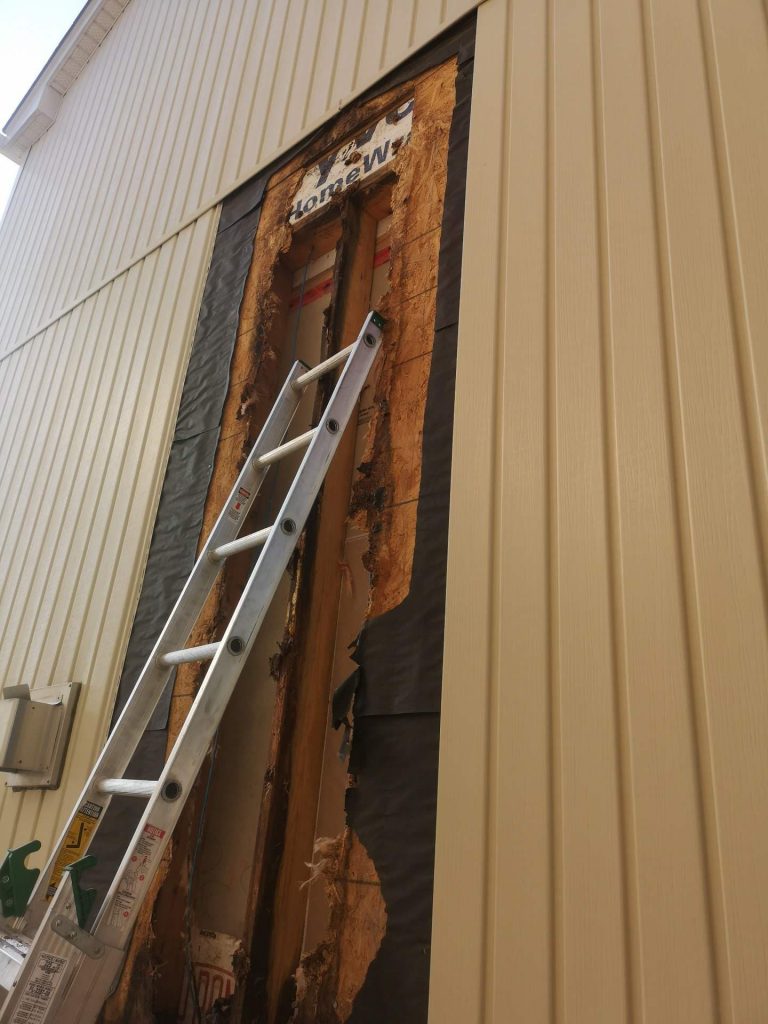 Just another example of the power of water. Installed everything looked great, but when you removed the siding you could see that the proper steps to a water tight siding installation were not followed.
Some more siding repairs that we have delt with
Some work that I have come across doing Soffit & Fascia inspections and repairs  (hover over to see description) 
damage caused from a racoon
house damage caused by improper flashing